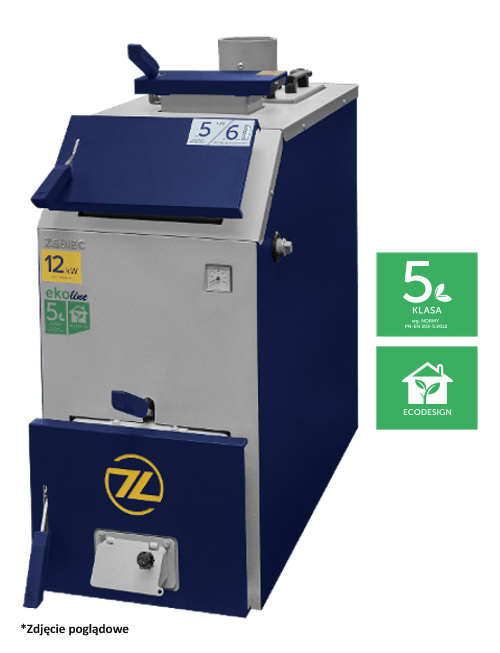 Coal boiler
SIMPLE AND CONVENIENT OPERATION
Boiler SZAFIR is characterised by easy operation. It has a movable, cast iron grate, which allows ash removal without opening the door. The large capacity of the top-loading chamber allows to long work with one load, and the large door opening facilitates convenient refuelling. It has a three-chamber structure that improves combustion efficiency and reduces exhaust emissions.
FROM THE SMALLEST TO LARGE HOUSES
The SZAFIR boiler can be used to heat small areas, as well as houses with an area of up to 305 m². The advantage of the SZAFIR boiler is the possibility of refuelling during operation without deterioration of the boiler's heating properties (as in boilers with a feeder).
SMALL, COST-EFFICIENT AND CHEAP IN UTILISATION
This is one of the smallest boilers on the market. Thanks to its small dimensions, it can be installed in small and low boiler rooms. The SZAFIR boiler is characterized by low fuel consumption, thanks to the boiler efficiency amounting to 90%. Its undisputed advantage is that it does not require power supply, and the control is carried out manually or automatically using a chimney air draught control device.
RELIABLE DESIGN = LONG SERVICE LIFE
The solid and durable SZAFIR boiler is made of certified boiler sheets up to 6 mm thick (12 kW boiler weight: 360 kg), has a three-chamber structure, which reduces the risk of corrosion and sinters. It has a long warranty – up to 5 years – of the tightness of the body's welded parts.
ADVANTAGES OF THE SZAFIR BOILER Large chamber, allowing the boiler to long work with one loading. High efficiency and combustion efficiency with low fuel consumption results in the economical use. The low level of harmful substances in exhaust gas makes it an environmentally-friendly boiler. It does not require power supply, thus reducing operating costs. Legendary reliability and longevity from Zębiec.
5 years warranty of watertightness of the welded joints of the water body
4 years of warranty on the body tightness
24 months warranty of efficient boiler operation
Certified P265GH boiler sheets
Quick and effective ash removal thanks to the movable cast iron grate
High boiler efficiency (90%)
Power supply is not required
Low level of harmful substances in exhaust gases
As an additional option
Adjustment of combustion using an automatic control device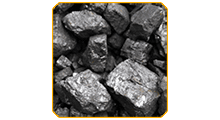 coal 20-50 mm
Szafir coal boiler
Standard
Combustion in the boiler can be adjusted manually by changing the position of the throttle in the bottom door by turning the adjusting screw.
Optional
Combustion in the boiler takes place automatically using a combustion control device.
| | | | | | | | | | | |
| --- | --- | --- | --- | --- | --- | --- | --- | --- | --- | --- |
| BOILER | Height | Width | Depth | A | B | C | D | E | F | G |
| SZAFIR 12 | 1021 | 493 | 1100 | 93 | 118 | 802 | 133 | 436 | 1021 | 920 |
| SZAFIR 16 | 1138 | 581 | 1129 | 93 | 118 | 919 | 159 | 490 | 1138 | 1016 |
| SZAFIR 20 | 1252 | 581 | 1129 | 93 | 118 | 1033 | 159 | 490 | 1252 | 1130 |
Identification
UOM
SZAFIR 12
SZAFIR 16
SZAFIR 20
Energy efficiency class
B
B
B
Rated thermal power
kW
12
16
20
Energy efficiency ratio
83
84
84
Primary fuel
coal
coal
coal
Scope of work
kW
3÷12
4,8÷16
6÷20
Chamber capacity
dm³/kg
24/17
29/20
39/27
Boiler water capacity
dm3
55
72
86
Required natural draught
Pa
15
18
18
Minimum height of the chimney
m
5
5
5
Minimal cross section of the chimney
cm x cm


Φ

cm
12 x 12


Φ

14
20 x 14


Φ

18
20 x 14


Φ

18
Flue diameter
mm

Φ

133

Φ

159

Φ

159
Max. working pressure
bar
1,5
1,5
1,5
Maximum water temperature
°C
90
90
90
Thermal efficiency
%
to 88,9%
to 89,5%
to 90,0%
Fuel consumption when working with the min. and rated power
kg/h
0,5÷1,9
0,8÷2,6
0,96÷3,2
Exhaust gas temperature at work with rated power
°C
135
135
137
Min. safe accumulation tank capacity
dm³
750
750
750
Water pipes outlet/return
G 1½" inner
G 1½" inner
G 1½" inner
Boiler weight without water
kg
360
426
480
Boiler class according to PN-EN 303-5:2012
class 5
class5
class5
Ecodesign
yes
yes
yes
ZĘBIEC boilers
Fuel
Thermal output [kW]
Heated floor area [m[m2] ] based on the heat transfer coefficient of the walls (insulation)
U > 1 [W/m2K]
U ~ 0,7 [W/m2K]
U ~ 0,5 [W/m2K]
U ~ 0,3 [W/m2K]
no insulation
~5 cm insulation
~8 cm insulation
>10 cm insulation
SZAFIR 12
coal
12
105
120
140
185
SZAFIR 16
coal
16
135
160
190
245
SZAFIR 20
coal
20
170
200
235
305