Mineralbent P30, P50 i P70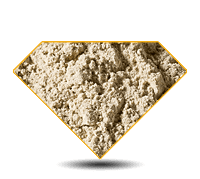 Mineralbent P30, P50, P70 is a natural calcium bentonite used as a feed additive. The primary role of bentonite in animal nutrition is its excellent sorption and ion-exchange properties. Mineralbent P30, P50, P70 products have a high capacity to bind and remove mycotoxins and heavy metals, which has a positive effect on the Ph of the animal digestive tract.
Technical parameters
Ph: 7÷9

Montmorillonite content – depending on type of bentonite

Mineralbent P30 – min. 30% montmorillonite,
Mineralbent P50 – min. 50% montmorillonite,
Mineralbent P70 – min. 70% montmorillonite,

Granulation: +0.2 mm max. 10%, or as agreed with the customer
| | | |
| --- | --- | --- |
| 25 kg bags | Big bags, approx. 1000 kg | Bulk in road tankers |
Delivery by GMP+ certified transport.
The product can be customised.
Technical consultancy:
Anna Glina
Implementation and Development Specialist
ph. +48 41 27 67 504
ph. +48 696 091 887
e-mail: anna.glina@zebiec.pl