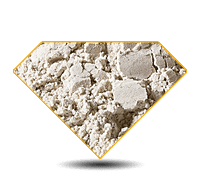 Specjal PLUS Bentonite is a hybrid casting bentonite developed with two raw materials. The ratio of both bentonite types is formulated to pronounce their best features and complementary actions. The bentonite is enhanced with sodium cations (i.e. activated). It is used in founding as a binder for moulding sands and core sands. The product is intended for processing with automatic moulding lines and moulding machines. It is widely used for casting of iron, steel and non-ferrous metals.
The advantages of using the activated Specjal PLUS Bentonite:
Improved resistance of moulding sands to compression and tearing;

Stabilised / increased volume of activated clay in the sandmix;

Improved resistance to high temperature (refractory performance);

Higher swell factor, i.e. hydration of bentonite;

Stabilised water demand;

Approximately 10 % reduction in bentonite consumption compared to Specjal Bentonite;

Better flowing of moulding sands.
| Item | Parameter | Specjal Plus Bentonite |
| --- | --- | --- |
| 1 | Wet compression strength [MPa], min. | 0,085 |
| 2 | Spill rate [%], max. | 5,0 |
| 3 | Swell factor [cm3/2g], min. | 17 |
| 4 | Carbonate content [%], max. | 5,5 |
| 5 | Water content [%], max. | 13 |
| 6 | Montmorillonite content [%], min. | 85 |
| 7 | Particle size | 80% under 0,056mm |
| | | | |
| --- | --- | --- | --- |
| 21+2 kg paper bags, stacked on Euro pallet 1200×800 mm | Big Bag, approx. 1000 kg | Bulk in truck tanks | Other types of packaging to be arranged |
Technical consultancy:
Sylwia Sieczka
Implementation and Development Specialist
ph: +48 41 27 67 321
ph: +48 608 665 346
e-mail: sylwia.sieczka@zebiec.pl