Specjal Bentonite is a casting bentonite enhanced with sodium cations (i.e. activated) to radically improve performance. It is used in founding as a binder for moulding sands and core sands.
The advantages of using the activated Specjal Bentonite:
Improved resistance of moulding sands to compression and tearing;

Improved resistance to high temperature (refractory performance);

Higher swell factor, i.e. hydration of bentonite;

Better flowing of moulding sands.
Application:
Specjal Bentonite is intended for processing with automatic moulding lines and moulding machines. It is widely used for casting of iron, steel and non-ferrous metals.
| Item | Parameter | SPECJAL bentonite |
| --- | --- | --- |
| 1 | Compression strength in humid state [MPa], min. | 0,075 |
| 2 | Spill rate [%], max. | 5,0 |
| 3 | Swell factor [cm3/2g], min. | 17 |
| 4 | Carbonate content [%], max. | 5,0 |
| 5 | Water content [%], max. | 13 |
| 6 | Montmorillonite content [%], min. | 75 |
| 7 | Particle size | 80% under 0,056mm |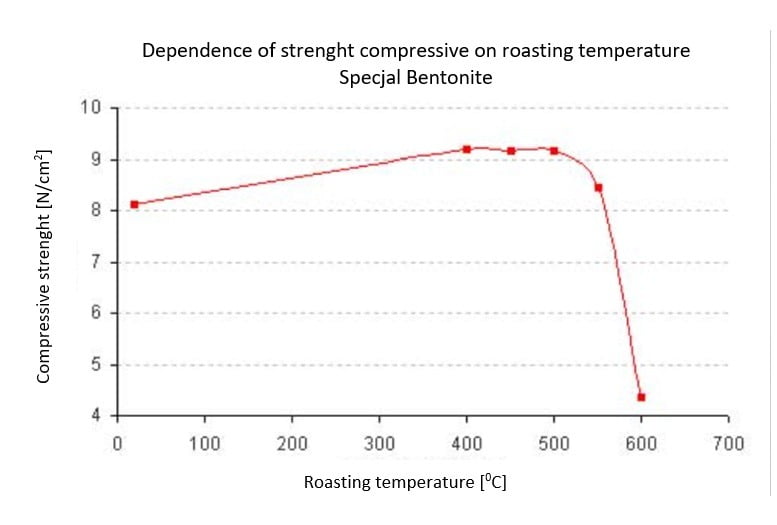 | | | | |
| --- | --- | --- | --- |
| 21+2 kg paper bags, stacked on Euro pallet 1200×800 mm | Big Bag, approx. 1000 kg | Bulk in truck tanks | Other types of packaging to be arranged |
Technical consultancy:
Sylwia Sieczka
Implementation and Development Specialist
ph: +48 41 27 67 321
ph: +48 608 665 346
e-mail: sylwia.sieczka@zebiec.pl