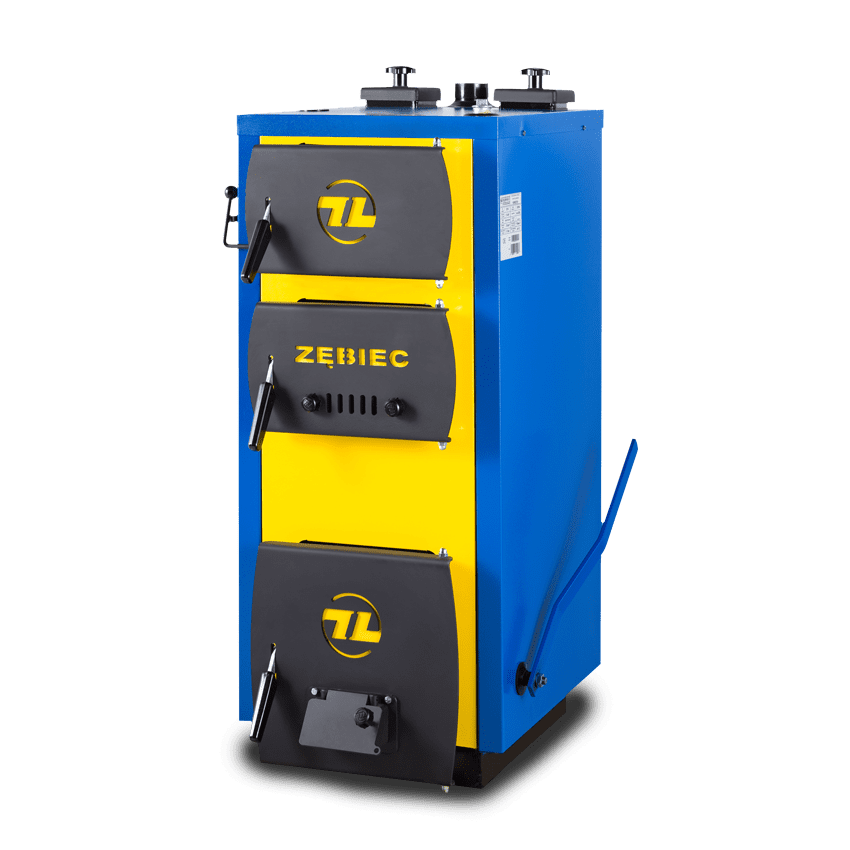 Lower combustion boiler
The KWK type boiler is a heating unit with lower combustion of long-flame solid fuels. It was designed with the participation of the Research Institute, so it is characterised by high efficiency. Boilers of this type enjoy great popularity due to easy handling. They are great for the heating of houses, garages, utility buildings or commercial spaces.
Easy to use
The economical and fault-free operation of the boiler depends on its correct parameters and the constant control of its work. Burning temperature can be easily adjusted by means of a knob on the hinged flap located on the ash pan door or by means of an automatic draught regulator. When he large combustion chamber is topped up and correct combustion parameters are set, the boiler will produce heat for many hours, without any intervention.
Rapid heat transfer
The KWKD type boiler combines the best solutions which enhance its efficiency, which help to provide heat in a short time. The compact design of the exchanger and high grade materials as well as a fixed water grate guarantee a high thermal output despite the boiler's small dimensions. The heavy, fixed grate is quicker to deliver heat from the fuel to the circulating water, and this enhances the thermal efficiency of the unit. Heat dissipation is effectively reduced by means of an insulation mantle made with layers of steel lined with mineral wool. The thermal efficiency of KWKD boilers reaches 82%.
Reliable design
The design of these boilers is solid and resistant to high temperatures. The use of proven materials, such as boiler steel, guarantees stable operation for many years. Satisfactory insulation prevents heat loss and ensures maximum retrieval of energy, which help the boiler to reach high levels of thermal output quickly. KWKD boilers made by ZGM ZĘBIEC SA ensure a long service life free from unexpected failures.
Combustion is controlled by means of an automatic draught regulator* or manually (*as an option at extra charge)
High combustion efficiency, up to 82%
Certified boiler plates P265GH
Quick and effective ash removal thanks to a cast iron, mobile grate.
Easy and quick operation.
36-month warranty for the leak-tightness of the water jacket
24-month warranty for service life and efficient operation
| | | |
| --- | --- | --- |
| | |   |
| Hard coal | Coke |   |
Automatic
By means of a draught regulator
Manual
By means of a screw adjusting the position of the flap in the lowest door
Boiler
Height
Width
Depth
A
B
C
Flue
Burning chamber
Charging hole
F
D
E
height
width
depth
width
height
KWKD 15
1051
444
717
269
906
1090
140
110
330
338
275
212
167
507
KWKD 22
1217
506
745
290
1062
1252
160
130
370
400
275
317
197
569
Item
Detailed data
UOM
Boiler size
1.
Rated thermal output
kW
15
22
2.
Fuel
hard coal, nut coal II
3.
Heat efficiency at rated power
%
up to 82
up to 82
4.
Heat output regulation range
% of rated output
30 ¸ 100
30 ¸ 100
5.
Max. leaving water temperature
oC
95
95
6.
Max. operating pressure
MPa
0,15
0,15
7.
Min. return water temperature
oC
40
40
8.
Max. operating pressure
bar
1,5
1,5
9.
Required draught
Pa
>24
>25
10.
Min. chimney cross-section area as per PN-89/B-10425
cm x cm

Æ cm

14 x 14

Æ 16

20 x 14

Æ 18

11.
Flue dimensions
mm
140 x 110
160 x 130
12.
Min. chimney height
m
5
5
13.
Water connections, inlet/outlet (threaded)
mm
Æ60,3 x 4 (2")
Æ60,3 x 4 (2")
14.
Charge capacity of the burning chamber
dm3
42
50
15.
Stoking door dimensions
mm
175 x 220
205 x 324
16.
Single-charge combustion at rated power
godz.
> 5
> 6
17.
Boiler water capacity
dm3
~ 58
~ 76
18.
Weight of empty boiler
kg
224
290
19.
Overall dimensions
Height
mm
1051
1217
Width
mm
444
506
Depth

with return duct (flue)

mm
717
745
ZĘBIEC boilers
Thermal output [kW]
Heated floor area [m2], based on heat transfer coefficient of walls (insulation)
U > 1 [W/m2K]
U ~ 0,7 [W/m2K]
U ~ 0,5 [W/m2K]
U ~ 0,3 [W/m2K]
no insulation
~5 cm styrofoam
~8 cm styrofoam
>10 cm styrofoam
KWKD 15
15
130
150
175
230
KWKD 22
22
195
220
260
340
Draught regulator
A draught regulator in solid-fuel boilers is a thermostatically operated device for controlling the water temperature in the boiler.
The thermostat head of the regulator monitors the water temperature in the boiler and via levers and a chain moves a flap to increase or reduce the airflow into the hearth.