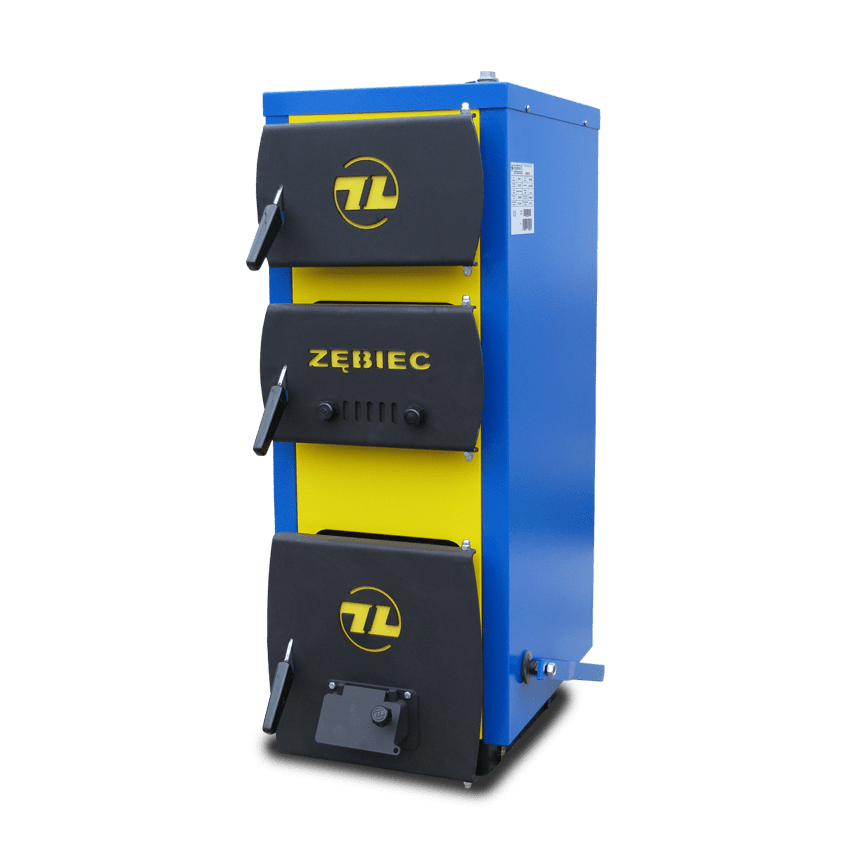 Suitable for every building
The all-purpose KWK type boiler is a heating unit with the upper combustion of solid fuels. It is especially popular in private homes, but it is also installed in commercial spaces and individual shops. It is designed to burn such fuels as wood, hard coal, and coke.
Easy to use
Thanks to the unfailing upper-combustion design, every kind of fuel will be burnt almost completely. Fuel catches fire quickly and easily – it is enough to strike one match on the grate and fire will spread rapidly over the fuel. To ensure maximum efficiency of operation, we recommend fitting an automatic draught regulator. Also, the KWK boiler is fitted with a movable grate which can be easily emptied of ash.
Heat efficiency reaching 82%
The KWK from ZGM ZĘBIEC SA features a large combustion chamber enabling the burning of both hard coal and sizeable pieces of wood. The larger chamber can receive a bigger charge at one loading. The fuel charge burns evenly, ensuring a constant temperature in the heating medium. Simultaneously, with a view to enhancing heat transfer, the KWK boiler contains one extra path for the flue gas (the so-called water pocket) as well as a fixed water grate.
Only proven and durable materials used
KWK boilers are made only using proven and durable materials ensuring long service life. The use of certified boiler plates of 6 mm in thickness and an insulation mantle made of steel cassettes that are lined with mineral wool has a radical impact on the reliability of the design.
Option of automatic operation
The boiler is designed to accept a PID algorithm control module, which guarantees high accuracy of parameter control and reduces the user's involvement to a minimum. However, the boiler is also the perfect choice for periods without electricity, using the natural air draught. Temperature can be adjusted using an air throttle located in the ash pan door, or an automatic regulator (the so-called draught regulator).
Large combustion chamber.
Designed for the self-assembly of the control kit, which is available as an option at an extra charge..
Combustion is controlled by means of an automatic draught regulator* or manually (*as an option at extra charge).
High combustion efficiency, up to 82%.
Certified boiler plates P265GH.
Szybkie i skuteczne odpopielanie dzięki ruchomemu rusztowi żeliwnemu.
60-month warranty for the leak-tightness of the water jacket.
24-month warranty for service life and efficient operation.
| | | |
| --- | --- | --- |
| | | |
| Hard coal | Hard coal + coke | Wood |
Manual
By means of a screw adjusting the position of the flap in the lowest door
Automatic
By means of a draught regulator
BOILER
Height
Width
Depth
A
B
C
Flue
Burning chamber
Charging hole
E
D
height
width
depth
width
height
KWK 12
1014
320
650
253
886
1058
Ø 130
230
214
376
146
199
381
KWK 16
1025
382
686
253
878
1070
Ø 170
290
276
376
212
167
447
KWK 25
1140
506
752
280
1001
1185
170X170
290
400
397
317
197
570
Lp
Detailed data
Jedn. miary
KWK 12
KWK 16
KWK 25
1
Rated thermal output
kW
12
16
25
2
Standard fuel
hard coal
3
Charge capacity of the burning chamber
dm3
19
30
47
4
Boiler water capacity
dm3
30
35
58
5
Max. water temperature
°C
95
95
95
6
Min. required draught
Pa
22
24
25
7
Min. chimney height
m
5
5
5
8
Max. operating pressure
bar
1,5
1,5
1,5
9
Min. chimney cross-section area
cm ´ cm

Æ cm

14×14

Æ 14

20 x 14

Æ 18

20 x 14

Æ 20

10
Flue diameter
mm
Æ130
Æ170
170×170
11
Heat efficiency with standard fuel at rated power
%
do 82
do 82
do 82
12
Net weight
kg
157
185
285
13
Overall dimensions
height

width

depth (incl. flue)

mm

mm

mm

1014

320

650

1025

382

686

1140

506

752
ZĘBIEC boilers
Thermal output
Heated floor area [m2], based on the heat transfer coefficient of the walls (insulation)
U 1 [W/m2K]
U ~ 0,7 [W/m2K]
U ~ 0,5 [W/m2K]
U ~ 0,3 [W/m2K]
no insulation
~5cm styrofoam
~8cm styrofoam
~10cm styrofoam
KWK 12
12
105
120
140
185
KWK 16
16
135
160
190
245
KWK 25
25
215
250
295
385
Draught regulator
A draught regulator in solid-fuel boilers is a thermostatically operated device for controlling the water temperature in the boiler.
The thermostatic head of the regulator monitors the water temperature in the boiler and via levers and a chain actuates a flap to increase or reduce the airflow into the hearth.