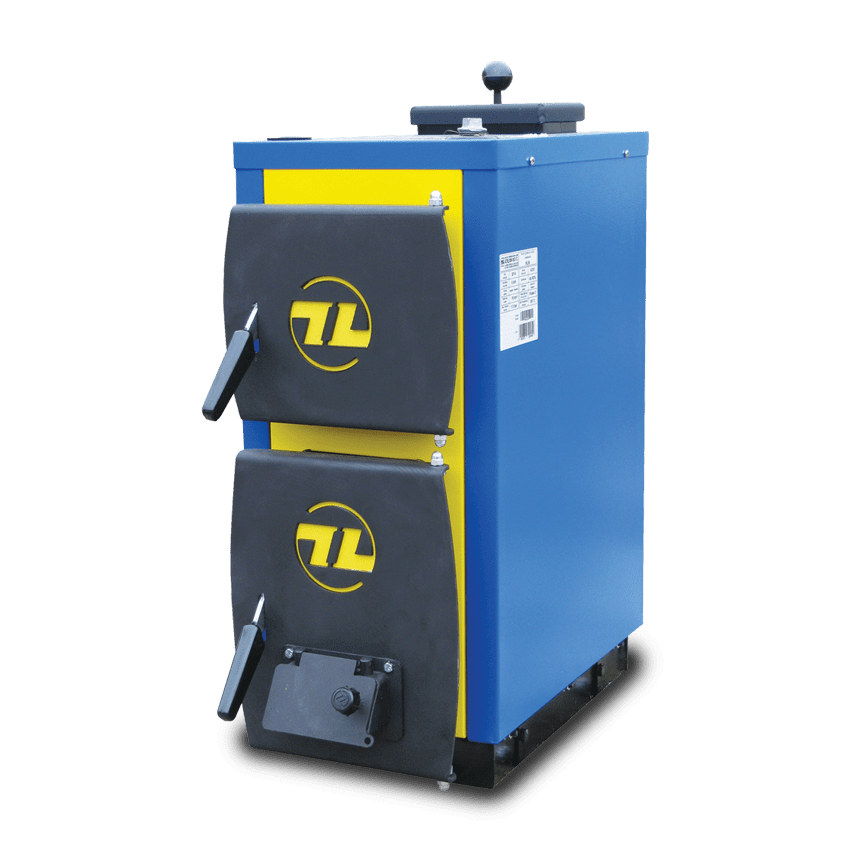 Ideal for tight spaces
The KU type boiler from ZGM ZĘBIEC SA is a heating unit with the upper combustion of solid fuels. The compact size of the boiler, combined with its lower heat output, makes it ideal for small buildings, such as summer cottages, garages, workshops, utility buildings, and individual apartments in multi-family buildings.
Convenience of use
The operation of the boiler can be controlled automatically or manually. By choosing an accessory control device, such as a draught regulator for combustion temperature control, time and effort can be reduced to an absolute minimum. However, the boilers can be operated manually by means of a special throttle.
Tough design
In the manufacture of this boiler only top grade materials are used to guarantee its strength and resistance to pressure and high temperatures. The water jacket is made of certified sheet steel of 3–4 mm in thickness, while the insulation used reduces heat loss. The KU-6 boiler features a universal design of the heat exchanger, so despite its small size, the boiler quickly reaches the expected combustion efficiency. Its solid structure and proven solutions ensure excellent thermal efficiency and a long service life.
Reliable choice
The fixed water grate is quick to deliver heat to the surrounding water, which enhances the thermal efficiency of the unit. KU steel boilers are very durable, and they enjoy a great deal of popularity due to their compact size.
[/fusion_text]
[/fusion_text]
High combustion efficiency and thermal efficiency up to 82%.
[/fusion_text]
[/fusion_text]
Certified boiler plates P265GH.
[/fusion_text]
[/fusion_text]
Combustion is controlled by means of an automatic draught regulator* or manually (*as an option at extra charge).
[/fusion_text]
[/fusion_text]
Easy and quick operation.
48-month warranty for the leak tightness of the water jacket.
24-month warranty for service life and efficient operation.
Hard coal
Wood
STANDARD
Automatically by means of a draught regulator
Manually by means of a screw adjusting the position of the flap in the lowest door
OPTIONAL
Automatically by means of an electronic controller (ZS-01)
BOILER
Height
Width
Depth
A
B
C
Flue
Burning chamber
Charging hole
E
D
height
width
depth
width
height
KU 6
743
318
650
243
501
659
Ø 127
147
218
380
146
199
332
L.p.
Detailed data
UOM
Boiler KU 6
1
Rated thermal output
kW
6
2
Operating range
kW
2÷6
3
Charge capacity of the burning chamber
dm3
14
4
Boiler water capacity
dm3
16
5
Required draught
Pa
³20
6
Min. chimney height
m
5
7
Max. operating pressure
bar
1,5
8
Min. chimney cross-section area
cm x cm

Æ cm

14×14

Æ 14

9
Flue diameter
mm
Æ127
10
Max. water temperature
°C
95
11
Heat efficiency at rated power
%
do 82
12*
Single-charge sustained combustion at rated power
h
do 5
13*
Single-charge sustained combustion at min. power
h
do 13
14
Connection pipes, leaving/return water (threaded G 1″)
mm
Æ33,7×4 (1")
15
Weight of empty boiler
kg
100
16
Overall dimensions
height
mm
743
weight
mm
318
depth (incl. flue and doors)
mm
650
* for reference only; depends on bulk density, calorific value, fuel grade, etc.
ZĘBIEC boilers
Thermal output
Heated floor area [m2], based on the heat transfer coefficient of the walls (insulation)
U 1 [W/m2K]
U ~ 0,7 [W/m2K]
U ~ 0,5 [W/m2K]
U ~ 0,3 [W/m2K]
no insulation
~5cm styrofoam
~8cm styrofoam
~10cm styrofoam
KU 6
6
52
60
70
92
Draught regulator
A draught regulator in solid-fuel boilers is a thermostatically operated device for controlling water temperature in the boiler.
The thermostat head of the regulator monitors the water temperature in the boiler and via levers and a chain moves a flap to increase or reduce the airflow into the hearth.