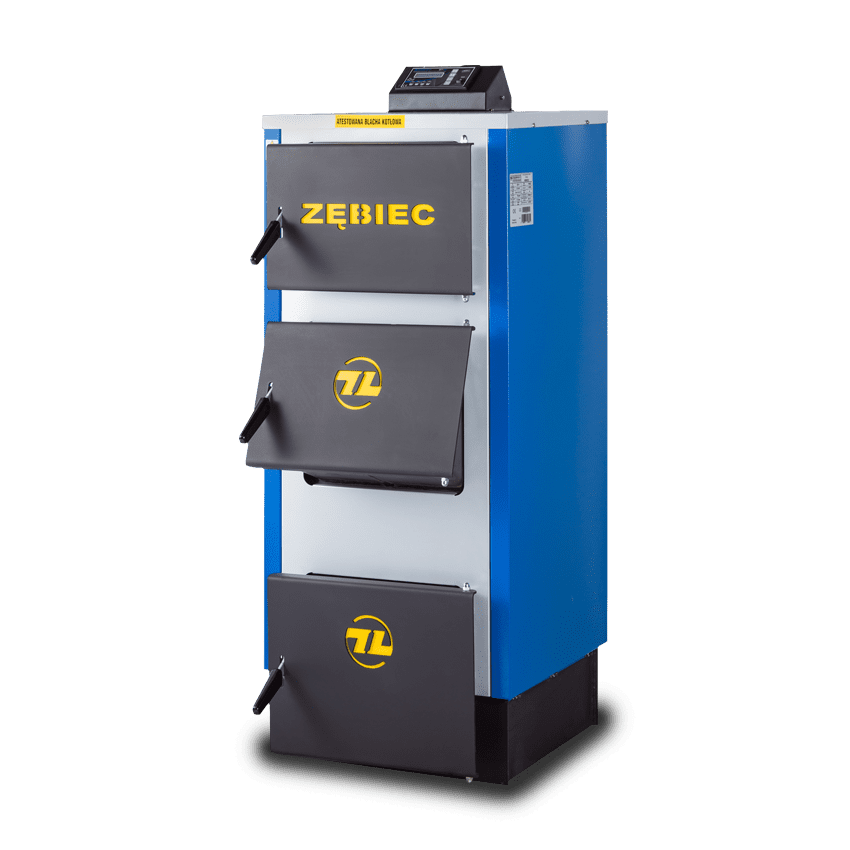 Popular boiler for fine coal
KMW from ZGM ZĘBIEC SA is an upper combustion heating unit which uses fine coal as fuel. If necessary, it will use hard coal or wood logs. The boiler is perfect for residential and utility buildings, commercial spaces and garages.
Easy stoking
The large stoking door ensures easy replenishment of fuel, and the sizeable combustion chamber will hold fuel for at least 20 hours of heating. Such a duration of sustained burning is achieved by the use of a large enough combustion chamber, an efficient heat exchanger, and a controller which ensures steady burning.
Safe operation
The operation of the boiler is supervised by safety devices and sensors which react in due time and signal failures or threats. As standard, the KMW boiler is fitted with water and exhaust temperature sensors. All of these features contribute to thermal efficiency and safe operation of the unit.
Efficient combustion
Fine coal KMW boilers are efficient and popular heating units which work in thousands of Polish homes. This model features modern solutions which increase its heat efficiency. In the basic configuration, the unit is fitted with a fan blower and a controller, which maintains the temperature of the water in the boiler jacket. The multi-point air supply system ensures uniform and sustained burning, so the unit works longer and more efficiently, and the fuel does not need to be replenished frequently. The exchanger is made of certified boiler plates and insulated with mineral wool, which minimises heat loss even better.
Easy to use
Fine coal heating boilers from ZGM ZĘBIEC SA are valued for their high combustion efficiency, thermal efficiency and convenience of use. Easy cleaning and maintenance are its advantages, too, making KMW boilers perfect heating units for all of those who appreciate convenience of use.
Large combustion chamber.
High combustion efficiency, up to 82%.
Certified boiler plates P265GH.
Sensors and systems: leaving water temperature sensor, flue gas temperature sensor, boiler water mechanical temperature limiter (STB), boiler water temperature sensor.
Electronic controller managing the operation of:
– central heating pump,
– domestic hot water pump,
– fan blower.
24-month warranty for leak tightness of the water jacket.
24-month warranty for service life and efficient operation.
12-month warranty for exhaust temperature sensor.
ST-81zPID controller
The ST-81zPID controller is in charge of a continuous regulation of the air inflow, and the control of the central heating and utility water pumps.
It is fitted with boiler temperature and exhaust gas sensors. It is made from high quality materials, which are resistant to high and low temperatures.
BOILER
Height
Width
Depth
A
B
C
Flue
Burning chamber
Charging hole
F
G
D
E
Hi
Wi
De
Wi
Hi
KMW 16
1095
398
709
246
997
1155
170
170
377
224
397
212
167
178
412
KMW 23
1266
522
900
261
1135
1324
170
170
376
348
397
312
243
198
563
KMW 30
1438
530
850
93
1219
1428
170
170
409
346
500
312
243
207
583
L.p.
Detailed data
UOM
Boiler size
KMW 16
KMW 23
KMW 30
1
Rated thermal output
kW
16
23
30
2
Operating range
kW
5÷16
8÷23
10÷30
3
Standard fuel
fine coal
4
Charge capacity of the burning chamber
dm3
38
57
82
5
Boiler water capacity
dm3
~57
~78
~115
6
Required draught
Pa
24÷34
25÷35
25÷35
7
Min. chimney height
m
5
7,5
8
Min. chimney cross-section area
cm x cm

Æ cm

20×14

Æ 20

9
Flue diameter
mm
170×170
10
Max. operating pressure
bar
1,5
11
Max. water temperature
°C
90
12
Heat efficiency at rated power
%
do 82
do 82
do 82
13*
Single-charge sustained combustion at rated/minimal power
h
~9/~21
~10/~30
~11/~32
14
Connection pipes, leaving/return water
mm
Æ48,3×4 (1 1/2") gwintowane
Æ60,3×4 (2") gwintowane
15
Net weight of empty boiler
kg
220
282
420
16
Overall dimensions
height
mm
1095
1266
1438
width
mm
398
522
530
depth (incl. flue)
mm
709
900
850
17
Power supply
~230V/50Hz
18
Power consumption
regulator
W
4
fan blower
W
25
19
IP rating
regulator
IP 20
fan
IP 44
ZĘBIEC boilers
Thermal output
Heated floor area [m2], based on the heat transfer coefficient of the walls (insulation)
U 1 [W/m2K]
U ~ 0,7 [W/m2K]
U ~ 0,5 [W/m2K]
U ~ 0,3 [W/m2K]
no insulation
~5cm styrofoam
~8cm styrofoam
~10cm styrofoam
KMW 16
5÷16
135
150
180
235
KMW 23
8÷23
200
230
270
350
KMW 30
10÷30
260
300
350
460