Bentonite-Kormix Plus mixes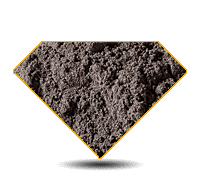 The Bentonite-Kormix Plus mixes are based on hybrid bentonites. The new line of mixes is characterised by a high strength, a high heat resistance, and stable parameters.
The PLUS mix applied in casting facilitates:
Increased strength of moulding sands;

Stabilised / increased volume of activated clay in the sandmix;

Stabilised water demand;

Approximately 10% reduction in bentonite/sandmix consumption;

Improved quality of casting surfaces (less defects).
| Item | Parameter | 75k | 80k | 85k |
| --- | --- | --- | --- | --- |
| 1 | Wet compression strength [MPa], min. | 0,073 | 0,075 | 0,077 |
| 2 | Spill rate [%], max. | 3,0 | 3,00 | 3,00 |
| 3 | Swell factor [cm3/2g] min. | 13 | 15 | 15 |
| 4 | Content of lustrous coal carrier [%] min. | 25,00 | 20,00 | 15,00 |
| 5 | Loss on ignition, min. [%] (relative to dry sand) | 27 – 31 | 21 – 25 | 19 – 23 |
| 6 | Water content [%], max. | 8 – 12 | 8 – 12 | 8 – 12 |
| | | | |
| --- | --- | --- | --- |
| 42±2,5 kg paper bags, stacked on Euro pallet 1200×800 mm | Big Bag, approx. 1000 kg | Bulk in truck tanks | Other types of packaging to be arranged |
Technical consultancy:
Damian Drogosz
Implementation and Development Specialist
ph: +48 41 2767251
ph: +48 606497245
e-mail: damian.drogosz@zebiec.pl
Conditions of Sale:
Sylwia Sieczka
Implementation and Development Specialist
ph: +48 41 27 67 321
ph: +48 608 665 346
e-mail: sylwia.sieczka@zebiec.pl