This bentonite is used to manufacture synthetic moulding sands used in founding for making non-hardened (moist) moulds. The use of SPECJAL bentonite ensures the high quality of moulding sand. The essential advantages of moulding sands made with bentonite is the possibility of casting iron into moist moulds without having to dry them beforehand, and the possibility of their multiple reuse.
Bentonite is a material consisting mainly of smectite minerals, typically montmorillonites, possessing special swelling and water absorption properties. As an ingredient of a binding agent, it provides proper parameters for moulding sands and guarantees very good castings. It is characterised by good strength and high resistance to the temperature of molten metal.
SPECJAL bentonite is used specifically for casting. It is enhanced with sodium cations (i.e. activated) to radically improve its performance.
Advantages of using activated SPECJAL bentonite:
higher resistance of moulding sand to compression and tearing,

better resistance to high temperature,

greater swell factor, i.e. hydration of bentonite,

better flow of moulding sand.
Intended use:
SPECJAL bentonite is used on moulding lines and moulding machines. It is commonly used for the casting of iron, steel and non-ferrous metals.
| Item | Parameter | SPECJAL bentonite |
| --- | --- | --- |
| 1 | Compression strength in humid state [MPa], min. | 0,075 |
| 2 | Spill rate [%], max. | 5,0 |
| 3 | Swell factor [cm3/2g], min. | 17 |
| 4 | Carbonate content [%], max. | 5,0 |
| 5 | Water content [%], max. | 13 |
| 6 | Montmorillonite content [%], min. | 75 |
| 7 | Particle size | 80% under 0,056mm |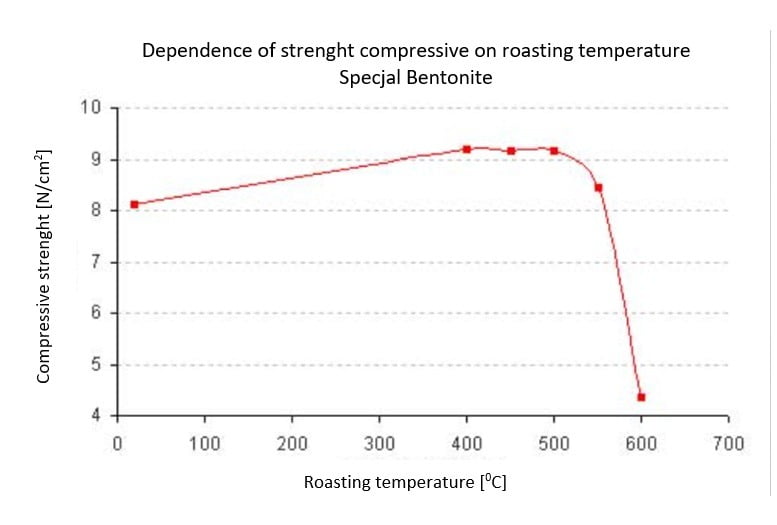 | | | | |
| --- | --- | --- | --- |
| 45 kg paper bags, stacked on Euro pallet 800 x 1200 mm | Big Bag, approx. 1 Mg | Bulk in truck tanks | Other types of packaging to be arranged |
Detailed information can be obtained from our technical consultant:
Damian Drogosz
Implementation and Development Specialist
PHONE: +48 41 2767251
MOBILE: +48 606497245
EMAIL: damian.drogosz@zebiec.pl
Sylwia Sieczka
Implementation and Development Specialist
PHONE: +48 41 27 67 321
MOBILE: +48 608 665 346
e-mail: sylwia.sieczka@zebiec.pl